eLearning LMS Software Development Solutions
BillionByte IT Solutions is a leading eLearning LMS Software Development Company in Kanpur, India, offers a diverse range of eLearning development services & solutions to ensure that learning never stops. and develops advance elearning solutions that are being used by so many users worldwide.
Our experts have successfully designed and developed technology solutions for the education sector that improve efficiency, enhance learning and facilitate students, instructors and administrators. We follow the latest trend while designing learning platforms, web and mobile apps and online courses utilizing the full potential of game-based learning, blended learning, and other trends.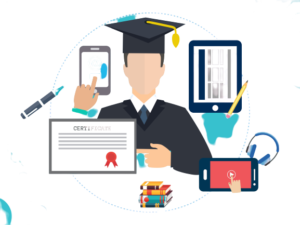 Significant Achievements
eLearning LMS Software Development Company in Kanpur India, provides the best solution that can change the course of learning for education institutes and students.
Registered Instructor
300+

Our eLearning management systems are specifically designed for educational institutes, schools and universities to help teachers & school administrators to manage all student & curriculam related activities through centralized platform.

Education & eLearning platform

Learning management system

Virtual Classrooms

Language learning apps

Machine-learning & AI in eLearning

SMS (SCHOOL MANAGEMENT SYSTEM)